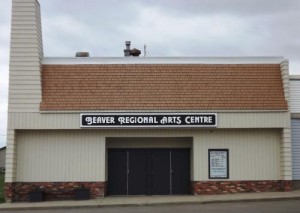 In the summer of 2015, the County of Beaver published an invitation to tender from organizations wishing to become the governing body of the Beaver Regional Arts Centre.
The Beaverhill Players has been producing plays in this building since 2010 and wanted more and better access to the theatre so that we could host movies, classes, presentations and all kinds of other events that our building is perfect for, in addition to plays of course!  So after a lot of hard work putting together the best proposal we could, and with letters of support from all across the county from individuals, businesses and organizations alike, we were named the new managers of the building.

From the scant details we have, the Beaver Regional Arts Centre started life as the Paragon Theatre in the '50s.  It was originally a movie house, and was renovated to accommodate live theatre in the 1970s.  It was vacant for some years and was subsequently managed by the Beaver Regional Arts Society until January 1, 2016.
Stay tuned for announcements about our Grand Opening!