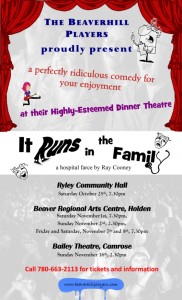 We like to perform comedies, and have so far done plays by Joseph Kesselring (Arsenic and Old Lace), John Patrick (A Bad Year for Tomatoes), Ray Cooney (Funny Money and It Runs in the Family), Jack Sharkey (Meanwhile, Back on the Couch and Sorry! Wrong Chimney! with Leo Sears) and Fred Carmichael (Out of Sight, Out of Murder).  Scripts for the Junior Players are written by instructor Roger Harrison and include Pie-Rats of the Carob Bean, Robin Hood's Official Rules of Hockey, last year's The Great Big Wild West Hero Show and 2016's Spy Camp Confidential.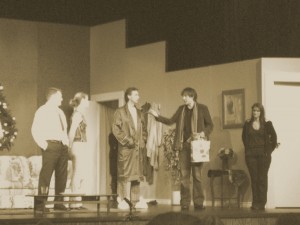 We did two performances which we took "on the road", Jack Sharkey's Meanwhile, Back on the Couch in 2013 and It Runs in the Family in the fall of 2014.  While we are extremely grateful that all shows were well attended at both Ryley and Camrose, as well as in our home town of Holden, we aren't likely to be staging a full production as a traveling show again anytime soon.  With a small volunteer base and limited time to go around, it's more likely that we'll turn our attentions towards making the show the best it can be by spending that time rehearsing and building a more comprehensive set at our home base.  Without having to think about how to make the set portable, we can return our attentions to creating the best atmosphere for the script we're doing.
You can purchase tickets for the show only, or for lunch or dinner with the show.  Meals are hosted in one of several venues around town.  We've hosted meals in the community hall, the art gallery, the Legion, and recently in the Holden Hotel.  Regardless of where we do it, our meals are always delicious!
Being a small group, we rely on volunteers for everything from producer and director to makeup artist and set design and construction.  We receive no grant funding; however, we are fortunate to have some reliable and generous sponsors.
Most of all, however, we're happy that our shows have been so well attended and praised by you, our audience!  If you've joined us before, we thank you, and if you haven't come to see one of our shows yet, we can't wait to see you!
Details on our next show will be found on our home page/blog as soon as they're confirmed.
Read about our past shows here.