We were proud to present two shows in April – The Murderless Mystery Dinner Theatre and Family Planning! 
The grade 6-12 Junior Players program in Holden celebrated its 8th year with a Showcase performance on April 20 & 21.
Showcase is a two-part night of entertainment. The first half is improv games and theatre sports, and then after intermission was The Murderless Mystery Dinner Theatre, in which two high-schoolers devise a plan to pay for tickets to see their favorite rappers by hosting a murder mystery costume party. Their quirky friends and an eccentric teacher help them out, but through some strange coincidences and a magical genie they become the rappers themselves!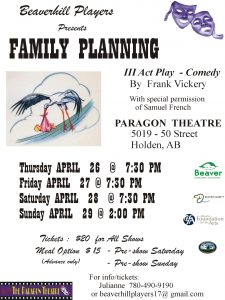 The very next weekend we produced a Frank Vickery script, Family Planning.
When young Tracy discovers she is pregnant she doesn't know how to tell either her parents – solid, dependable Elsie and hypochondriac Idris – or her boyfriend, Bobby. Gran, permanently ensconced in bed, knows all and sees all and helps pave the way for her announcement.
Unfortunately, Idris overhears a conversation between Tracy and Elsie, jumps to the wrong conclusion and believes he has but a short time to live. Next door neighbour Maisey butts in when Bobby is speaking to Idris and after liberal measures of gin all round, proceeds to show her true affections for Idris. Misunderstandings and mishaps abound in the second act, not least with Gran, and events are brought to a riotous conclusion when Maisey tries to apologise and Elsie catches her at it.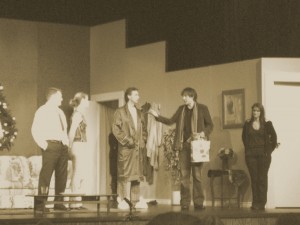 We like to perform comedies, and have so far done plays by Joseph Kesselring (Arsenic and Old Lace), John Patrick (A Bad Year for Tomatoes), Ray Cooney (Funny Money and It Runs in the Family), Jack Sharkey (Meanwhile, Back on the Couch and Sorry! Wrong Chimney! with Leo Sears) and Fred Carmichael (Out of Sight, Out of Murder).  Scripts for the Junior Players are written by instructor Roger Harrison and include Pie-Rats of the Carob Bean, Robin Hood's Official Rules of Hockey, The Great Big Wild West Hero Show, 2016's Spy Camp Confidential, The Rising Stars Convention and The Murderless Mystery Dinner Theatre.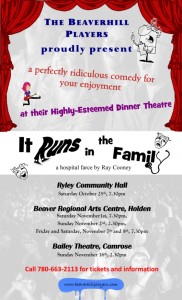 We did two performances which we took "on the road", Jack Sharkey's Meanwhile, Back on the Couch in 2013 and It Runs in the Family in the fall of 2014.  While we are extremely grateful that all shows were well attended at both Ryley and Camrose, as well as in our home town of Holden, we aren't likely to be staging a full production as a traveling show again anytime soon.  With a small volunteer base and limited time to go around, it's more likely that we'll turn our attentions towards making the show the best it can be by spending that time rehearsing and building a more comprehensive set at our home base.  Without having to think about how to make the set portable, we can return our attentions to creating the best atmosphere for the script we're doing.
Being a small group, we rely on volunteers for everything from producer and director to makeup artist and set design and construction.
Most of all, however, we're happy that our shows have been so well attended and praised by you, our audience!  If you've joined us before, we thank you, and if you haven't come to see one of our shows yet, we can't wait to see you!
Details on our next show will be found on our home page/blog as soon as they're confirmed.
Read about our past shows here.