The Junior Players is our theatre school for grades 4 through 12.
Our 7th Annual Junior Players Open House is Monday, September 12, 2016.  Don't miss it!
Students receive instruction in voice, improv, script comprehension, interaction and general theatre skills and knowledge. It's a great way to develop acting skills, but it's so much more than that!  It builds confidence, imagination, social skills and self-awareness through fun interaction.  As a result, students are more confident and poised in situations such as public speaking, debating – and, of course, acting.
For the past three years we've been on field trips to the Northern Alberta Jubilee Auditorium where we get some inspiration from being in a big venue with modern lighting and sound, and see a few tricks of the trade as well as get a backstage tour.  This year's tour was on March 4th, to the Citadel Theatre.
The group was started by the Beaverhill Players including Gail Alger, and then-high-school student Jake Tkaczyk, who has since gone on to Red Deer College and is now in the U of A's drama program.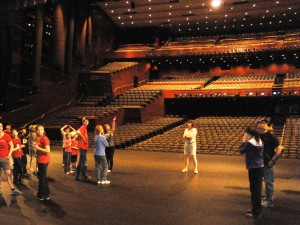 After the first year, Roger Harrison joined the group and at the end of the second year he agreed to keep the Junior Players program alive by becoming principal instructor.
The class of 2015-16 numbered 30 students divided into two groups including two student volunteers as Stage Manager and A/V Tech.
Classes run every Monday night during the school year and follow the Battle River School Division calendar.
In order not to conflict too much with the students' final exams and other extracurricular calendars, we wrap up the season by having our yearly Showcase in April.  This year's class will have their Showcase on April 28 & 29, 2017.
Showcase is a two-part performance, with the first half demonstrating skills we've worked on such as improv, monologues and so on, and after intermission we put on a short play.
For a look at past performances, click here.
Note to parents and students:  Please check the calendar often as it will be updated with news and other information.