The Junior Players is our theatre school for grades 6 through 12.
Our 9th Annual Showcase will be Friday & Saturday, April 12 & 13, 2019.  Don't miss it!
The grade 6-12 Junior Players program in Holden celebrated its 8th year with a Showcase performance on April 20 & 21, 2018.
Students receive instruction in voice, improv, script comprehension, interaction and general theatre skills and knowledge. It's a great way to develop acting skills, but it's so much more than that!  It builds confidence, imagination, social skills and self-awareness through fun interaction.  As a result, students are more confident and poised in situations such as public speaking, debating – and, of course, acting.
Since 2013 we've been on field trips to the Northern Alberta Jubilee Auditorium, the Citadel, the Winspear, and this year we visited Festival Place, where we get some inspiration from being in a big venue with modern lighting and sound, and see a few tricks of the trade as well as get a backstage tour.
The program is run by volunteer instructor Roger Harrison, who has worked in the music, film and television industry and also directs civilians in the battlespace for military training exercises. He also writes, directs, and produces the plays every year. Students have come from as far away as Wainwright and Chipman for this special and unique program.
Classes run every Monday night during the school year and follow the Battle River School Division calendar.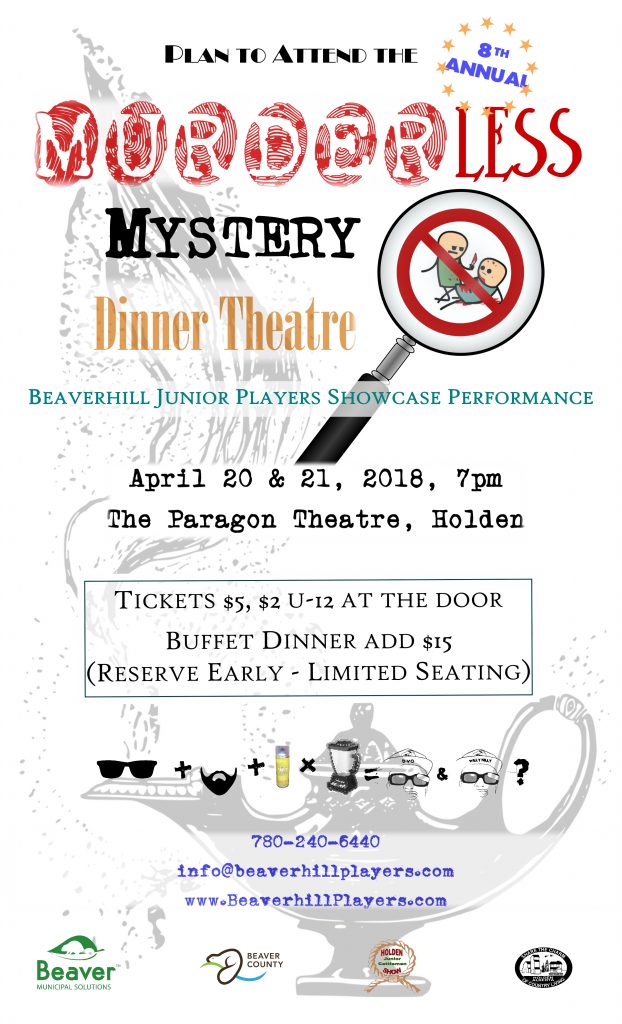 The end-of-season Showcase is a two-part night of entertainment. The first half is improv games and theatre sports, and after the intermission there's a play. In April 2018 it was The Murderless Mystery Dinner Theatre, in which two high-schoolers devise a plan to pay for tickets to see their favorite rappers by hosting a murder mystery costume party. Their quirky friends and an eccentric teacher help them out, but through some strange coincidences and a magical genie they become the rappers themselves!
For a look at past performances, click here.
Note to parents and students:  Please check the calendar often as it will be updated with news and other information.