Junior Players, Season Six starts in two weeks!
The next instalment of the Beaverhill Junior Players theatre school starts with an Open House on September 21!  That's right, Season Six promises more fun, silliness, jumping, running, laughing, taxi-driving, spaceship-crashing and all-around zip-zop whooshing than ever before.  And if you don't know what that means, you'd better show up at the Holden theatre on Monday September 21 for our Registration and Open House.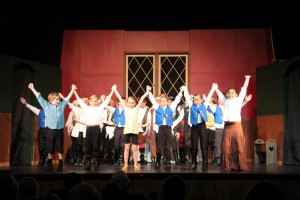 Rules are pretty simple in our classes – Have fun and respect each other.  From that, everything else comes naturally.  We work on all aspects of theatre; from voice to improv skills, emotion, body language, maybe some music and very freestyle dance, who knows.  We like to develop the imagination and make sure everybody knows that their voice is unique and that their contribution is valuable.
Fees are $20 per student for the first month and $10 per student thereafter.  Our classes run every Monday in conjunction with the Beaver Regional School District calendar (you can view it here).  Our Showcase will be on Friday and Saturday, April 15 & 16, 2016.  Showcase is an opportunity for the students to demonstrate what they've learned throughout the year via improv games, some audience participation, monologues and a one-act play written just for them.
Students must be in at least grade 4 to enrol.  We group the students into one of three classes, based on a combination of age, ability, and interest.  Not everyone who enrols will necessarily be accepted, and final class list will be issued prior to the Oct. 5 class.
Open House will be at the Beaver Regional Arts Centre in Holden, at 5019-50 St, from 4:15 – 6:30pm.